What make SoverSky Electric 2000w Trike Three Wheel Mobility Scooter unique
SoverSky Electric 2000w Trike 
Why do you need a Electric Fat Tire Trike ?
Most of SoverSky customers for the electric three wheel scooter are the old people , they need it as daily life.Maybe they can't hold the gas machine ,or they just can't bear the noise .For our three wheel citycoco scooter ,it's very easy to drive. from 5 years old kid to 80 years old people .All our scooter 's lithium battery are removable , so you can charge the battery at your home . With our fast charger ,only need 4-6 hours can get full power .The max speed is 20MPH , the max range is 30 miles , for the common commute ,that is enough .But if you want more , you can buy an extra battery .
Why choose SoverSky Electric Three Wheel Trike mobility scooter ?
So for the old people , what is the most important ? Of course the safety .At first beginning , we do the research for the market , people like powerful motor , like dual wheel drive each wheel is 2000w , but later we find it's unless at city,2000w motor is enough for the daily life .We also improve the acceleration model from Hard to Soft ,making our three wheel scooter very smooth to speed up .Very friendly .
What is the warranty for SoverSky Electric Fat Tire Chopper Scooter and Three wheel tricycle scooter ?
All SoverSky electric scooter has 1 year warranty for lithium battery , controller and brushless motor .For other parts , we can replace them at our cost .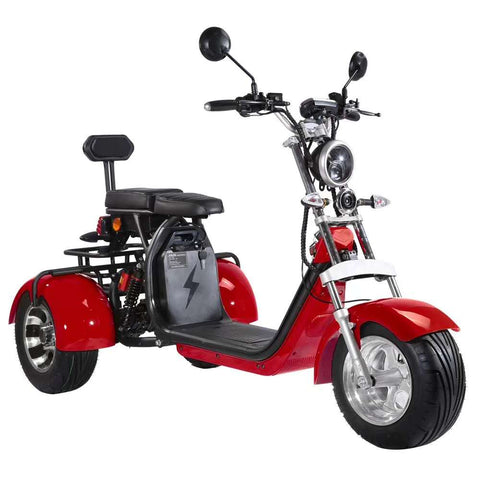 ---